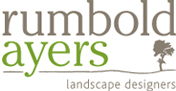 Rumbold-Ayers is a landscape and garden design practice, based near Salisbury, Wiltshire. We are a limited company with a small core staff, but we work with a network of professionals trained in related art, design, technical and environmental fields, both within the UK and abroad, to provide a comprehensive service. We undertake projects throughout the south and west of England, including Wiltshire, Hampshire and the Isle of Wight, Berkshire, Bath and Somerset, Dorset, and West Sussex, and occasionally further afield including continental Europe.
The Team

Svend Rumbold studied under six-times RHS medallist Duncan Heather and holds a postgraduate diploma in landscape design from Oxford College of Garden Design (distinction). Passionate about the countryside and its traditions, he is also a chartered engineer with experience of reed beds and flowing water systems. Svend originally studied at Oxford University and UMIST, and has a broad background that extends from clean energy to agriculture.

Tim Ayers is a graduate of Camberwell College of Arts, where he subsequently taught. Originally trained as a silversmith, Tim has his own workshop – The Cart Shed Studio in West Tytherley - specialising in designs in wood, and is also an expert in viticulture. Although Tim focuses mainly on bespoke handmade furniture, his experience extends to decks and other structures, include building a large and complex deck over the moat of a listed manor house. (He's also the only person we know who hangs oil paintings in his workshop!)

Judy Rumbold is a qualified plumber and is our expert on rainwater harvesting, water recycling and other water systems in the garden (as well as looking after our marketing and administration). Originally a nursing sister, her varied background includes furniture making, running her own plumbing business, and amateur pottery. Judy is also a published poet.

Alexandra Lehne, our associate in Bavaria, also trained under Duncan Heather at Oxford College of Garden Design, achieving a distinction in the postgraduate diploma in landscape design. Whilst still studying, she won the Student Design Competition at Southport Flower Show in 2010, working in collaboration with Momo Pino. In addition to her landscape design practice, she also runs a healthy living and lifestyle consultancy
www.balanceroom.com
, and was previously a member of the German Olympic sailing squad.