I'm sometimes asked about the difference between a landscape architect and a garden or landscape designer, and how to choose one to design your garden.
First, I want to say that there are lots of good landscape architects and lots of great designers too.  However, the profession is unregulated (in the UK), and anyone can call themselves a "landscape architect" or "garden designer" (but not an "architect" – that will get you into hot water unless you're properly registered).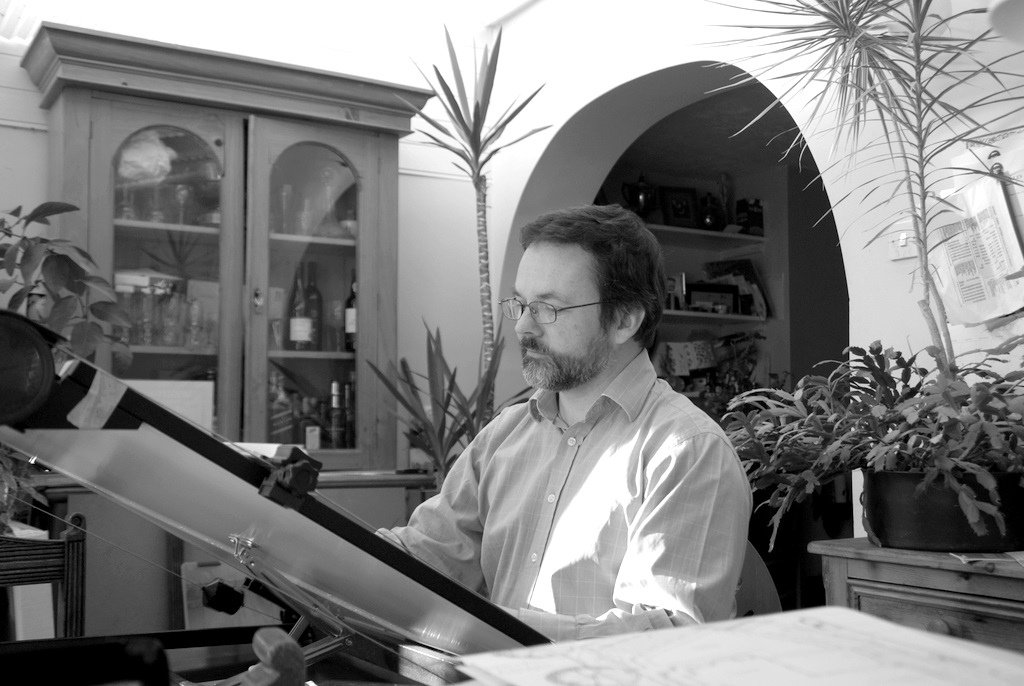 Landscape architects have generally studied at university for several years, and need several more years work experience before they can achieve chartered status.  They typically work on commercial developments, public outdoor spaces, parks and pedestrian precincts, often employed by local authorities, but some do specialise in residential landscapes and gardens.  Garden and landscape designers usually specialise in residential landscapes and gardens (with occasional commercial or school projects), and may either have studied at one of the universities now offering degree courses or, like me, have decided on a career change and taken a 1 year diploma course (not an easy option, believe me, as the syllabus is much the same as the 3 year degree).  Others may have come from a horticultural background.  Some, however, don't have any formal qualifications at all.  So how do you choose?
Designers tend to be less procedural in their approach, and domestic clients often prefer this more flexible style.  Other clients will only ever use a landscape architect.  There are no hard and fast rules, but here are some suggestions.
Do you get on?  It doesn't matter how many RHS Gold Medals they may have, a clash of personality spells disaster.
Is the designer/landscape architect listening to you? The garden is for you, its your money, and you have to live with the garden once its finished.  Some designers/landscape architects can be very possessive of the design – which may be fine if you're happy to leave absolutely everything to them, but you may have some ideas of your own!
Before you approach a designer or landscape architect, think about the materials, look and feel you want: collect some pictures of gardens you like.  Although you're paying them to come up with a design, the more you can tell them about what you're looking for, the less chance there is of frustrating rework.
Unless you are sure you know who you want, ask more than one designer/landscape architect to visit the site and discuss how they would approach the design.  And make sure both you and your spouse/partner are there, too.
Make sure you discuss the budget with the designer/landscape architect.  Its vital to have a clear understanding of the likely final cost.  Unfortunately, many people have no understanding of landscaping costs.  Whilst they're happy to spend £10,000 on their kitchen flooring, they somehow expect to have the same stone on their patio (plus excavations, muck away, sub-base, screed, and everything hand barrowed 100 yards through the garden gate) for a tenth of the cost.   And some designers/landscape architects just can't work within even a realistic budget, either.
Make sure you understand and agree the design fees.  Both the Society of Garden Designers and the Landscape Institute publish fee guidance, calculated as a percentage of the finished garden cost (roughly between about 18 – 8%, depending on project cost), and many designers/landscape architects follow this approach.  You might say this doesn't give the designer/landscape architect any incentive to keep the costs down.  Well, if you can't afford it, it isn't going to get built, so its actually in their interest to keep within the agreed budget.  And its also probably the fairest way of adjusting for extra work and complexity.  The alternative is a fixed fee: whilst this gives some certainty to the client, you'll probably be paying a small premium to cover the risk of extra work.
A WORD of WARNING: some designers may propose a very "cheap" fee, and say they like to work with a preferred contractor.  Now everyone has to eat so, unless they are designing for a hobby, they are probably getting a hefty fee from the contractor…. which you're paying, and you have no idea how much that is.  In my view this practice is quite wrong.  I feel very strongly that the designer/landscape architect should be open and honest in their dealings with the client, and put the client's interests first: that usually means getting competitive quotes.  Often the spread in quoted prices will be more than the design fee.  (If the designer has a preferred contractor, you can always add them to the tender list.)
Make sure you have a written contract between you and the designer/landscape architect.  Ideally there should also be a written design brief.
If you don't like what the designer/landscape architect has come up with, don't go off the deep end.  Stay calm and listen to their explanation of what they've proposed.  Remember, you're paying them to help you achieve your goal – a wonderful garden that you'll enjoy and be proud of for years to come – so listen to their advice.  Once you've heard the reasoning, you may come round to what they're proposing,  But if not, don't be affraid to say (politely) that you don't like it.
There are probably lots more "golden rules", but I'm going to stop there.  Good luck with your landscaping project and hopefully you'll keep my practice in mind.  Happy designing!