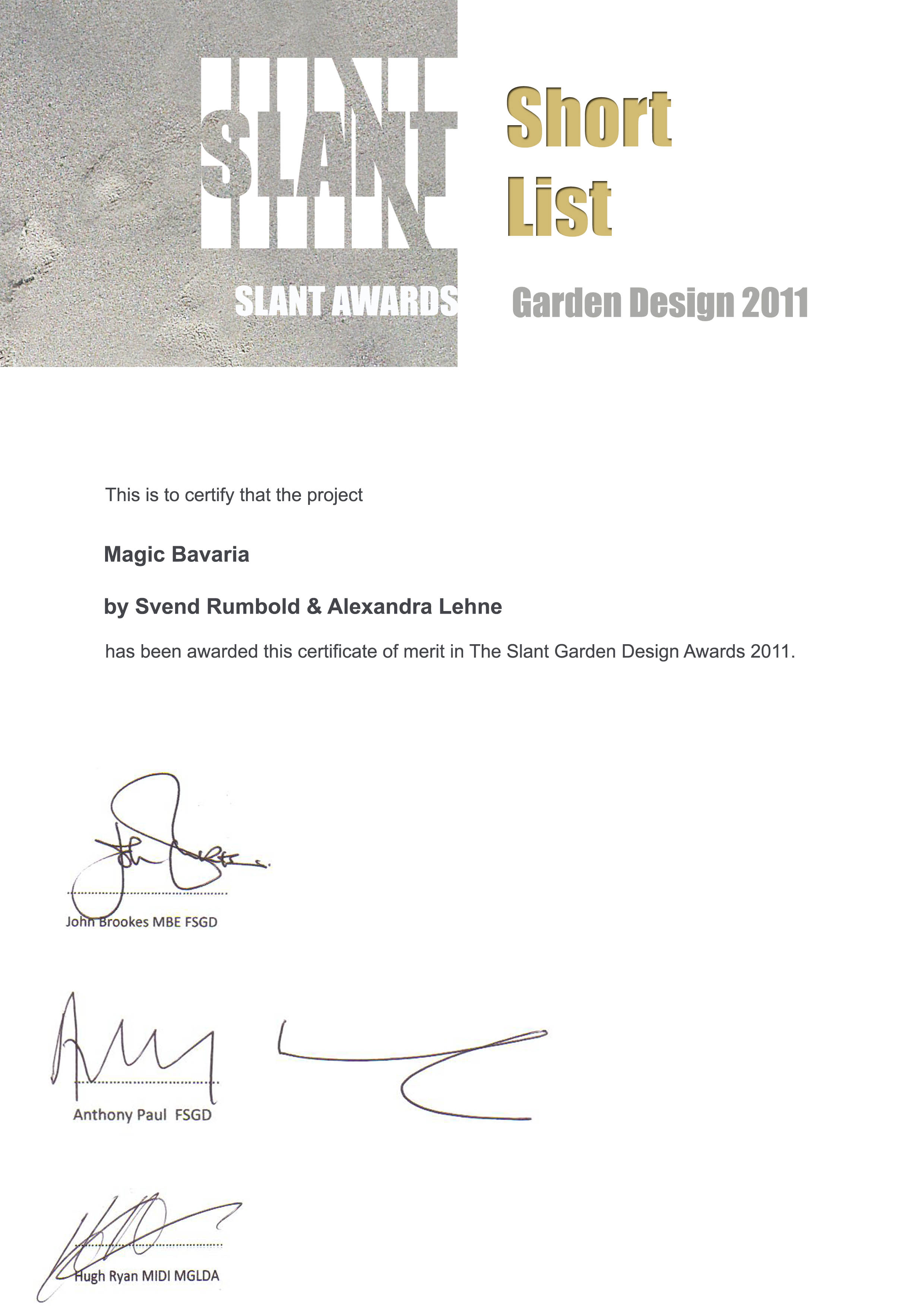 I am delighted to report that we (Alex Lehne and Svend Rumbold) were awarded a Certificate of Merit for our short listed design "Magic Bavaria" in the SLANT Open International Garden Design Competition.  (As some of you may know, Rumbold-Ayers draws on the skills and expertise of a small core team with design and related skills; Alex and I are landscape and garden design specialists.)
The competition was organised by Irish designer Hugh Ryan, who was joined in the judging by Anthony Paul and John Brookes MBE.  Such an illustrious panel of judges makes the effort that goes into preparing a competition entry all the more worthwhile.  In fact we prepared two entries, one located in Bavaria and another set in the Sussex downs (which made the long list).
I thought you might like a short insight into the design process.
Site Analysis:  normally we would visit the site and take photos etc., but the competition rules left us free to choose the location and topography of our garden, so instead we assembled photos from various sources, to convey the look and feel of our imaginary site. We prepared a site analysis diagram, showing the principal influencing characteristics.
Sketch Plan: establishing the the allocation of space across the site, routes of flow, and the size and shape of all significant features.  This is the heart of the creative process, and we applied a technique known as pattern analysis – best illustrated by the trial-and-error evolutionary sketches that ultimately led us to the plan.  We spent 5 days working together, culminating in hand drawn sketch plans for the two designs.
The final stage was to refine the details and prepare the illustrative visualisations that would make up the competition posters* (four A2 or A3 sheets).  We used 2d and 3d CAD (computer aided design), with hand and computer rendering, prepared plant lists and indicative planting details, and collected photographs to help illustrate the design.
The competition attracted entries from all over the world, and we were pleased to see both our designs make the long list (final 30).  When the short list was announced, "Magic Bavaria" was one of only three UK entries listed (and two of those, including ours, were actually UK/German team entries).  The winning design was by two young Portuguese landscape architects Ricardo Alexandre Lime Gomes and Daniels dos Santos Silva.
*The competition rules called for posters to be submitted, rather than drawings we would normally prepare for a client.