Summer is when most people wake up to what's going on in their garden, and hence it can be a busy time for garden designers. However, we did manage to escape for a few days to Cornwall. With its sheltered coastal gardens, full of exotic sub-tropical plants, contrasting with the exposed and rather bleak moors, it inevitably turned into something of a busman's holiday.
Trelissick, standing on a promontory at the head of the Fal estuary, is a 1750′s house surrounded by parkland and a 20th Century garden. The 375 acres of parkland offer truly extensive walking trails and absolutely stunning waterside views.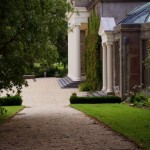 The gardens comprise mainly woodland with an extensive collection of camellias, rhododendrons, azaleas, photinia and hydrangeas.  At its heart is a relatively small area of lawn and herbaceous planting, but nonetheless full of vivid colour and interest.  A new orchard, featuring local varieties, was planted recently, and there is also a "sensory garden" near the entrance and ubiquitous shop.  However, this is perhaps a garden where size, rather than interest, is its main claim to fame. (The house isn't open to visitors.)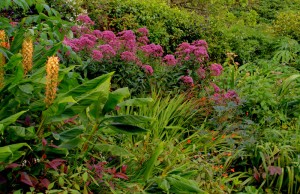 Trebah, near Falmouth, manages to achieve an entirely different feel.  The main garden runs down a valley, leading down from the house to a secluded beach on the Helford river.  The plantings are truly varied, and very extensive.  Near to the house are mainly Mediterranean plants, leading succssively past the stumpery (really a fernery) and cascade, "bamboozle", gunnera passage (where you can walk under their giant leaves), rhododendron valley, various ponds, the hydrangea valley, before arriving at the little beach at Polgwiddon Cove where they even offer complimentary loan of bucket and spade, in case you've forgotten yours (well, I did say it was a busman's holiday

).
(If you're interested, I've posted some more photos on Flickr and our Facebook page.)